An effective product page essence is to alter your website visitor into a customer. The main idea is to shorten the customer journey, give all the necessary information about a product and what is vital – convert. It sounds simple, yet many online retailers fail to provide restful product pages. That's why we've decided to share a few tips with you.
Product description
Let's start with the basics. The product description should be clear, reasonable, and should contain all advantages of a product. You can put eye-catching details in bullet points at the top, and use more words at the bottom to create a more comprehensive description. Or you can use infographic which will include the whole idea. Whichever form you choose, try to showcase a unique value proposition of your products and brand.
In 2016 Harvard Business Review posted an article explaining which values customers are craving most. They shortlisted over 30 variables and split them between 4 different categories: Social Impact, Life-changing, Emotional and Functional. You can use their work and implement which values your product is representing!
Think about your customers' needs, what aspects will be crucial to them In the main paragraph, you should present them the most precious value, a feature which will vary your product from competitors. Inform if it's waterproof, maybe you are using stainless steel, or perhaps your product is handmade and completely customizable. You should also highlight any other added values like CSR policy, eco-friendly material, zero-waste production, fair-trade marks, etc. Anything that will build value for your potential customer, but keep it simple and clear!
Check out how HURU is highlighting the features of a product. At the top, you can spot five main pros but after scrolling down you will learn about comprehensive details.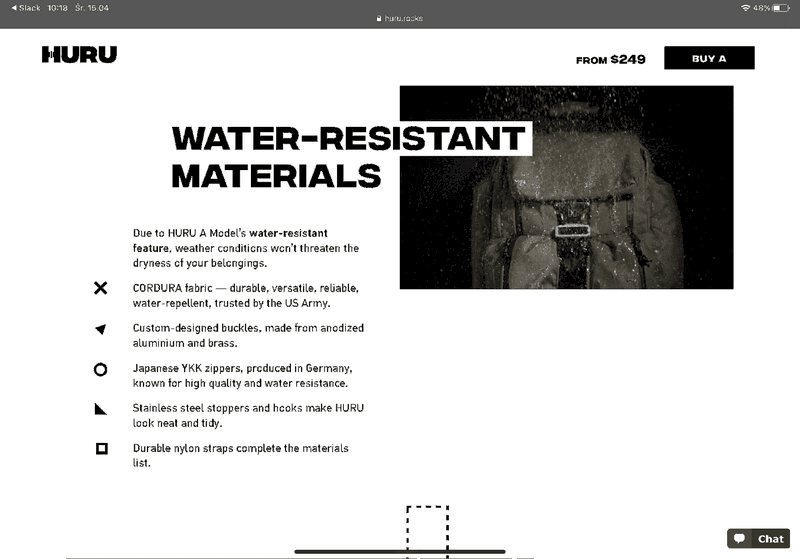 Product photos
Release only the highest quality of product visualization. If you are going to use photos prepare a professional packshot session! Show your product as a whole, but keep in mind to showcase details like the structure of used material, seamless connection, different layers, etc. Add widgets like zoom, to enhance customers to looking closely into essential details.
Instead of using ordinary photos, you can also make use of 3D render which allows the customer to take a 360 look of your product, AR models mimicking items on customer body or just a simple video. The possibilities are endless but make sure that you are not slowing down your page – doing so, you can dispirit customer or even lower SEO performance of your page!
Remember that customer satisfaction drops by 7% in each second when the website is loading, and 65% of them will not wait over 3 seconds!
As we love to promote local creators, it is hard to find a better example than a piece of art that Apple is crafting! Take a look at how to do it like a pro: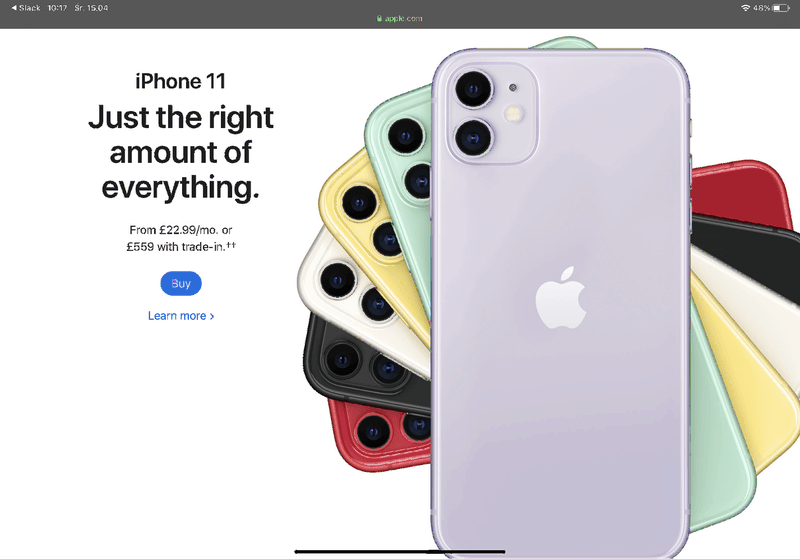 Social Proof
Nowadays, customers value other people's opinions and very often take them under consideration while online shopping. When buyers are browsing an e-commerce website, they can be willing first to dive into other users' opinions and ratings. You should add such options into your product page because:
social proof can convince potential customers to buy your products and help you build trust
High rates of products can trigger visitors to make a purchasing decision and help them choose between available products.
Over 65% of shoppers say they would not purchase in an online store without any reviews.
By using existing customers' opinions obtained in Google, Facebook, Yelp or any other opinion-forming platform you will not only show that you are trustworthy, but also that you care about customer satisfaction. Manage the reviews, answer to positive and negative comments to fix the issues and delight consumers.
Try RocketPop to add social proof widgets and conversion boosting pop-ups to your website.
Sense of urgency
Psychological triggers were working way before inventing the internet, so don't hesitate to use them – they can still be a priceless asset in your e-commerce tactics! Play with natural impulse in human nature, insert the number of remaining items in stock, a countdown to an end of the sale or just a simple notification that it's an end of the season collection—something which rushes out a visitor to become a customer.
Clear CTA
A clear and visible call-to-action button can get the attention of a potential buyer. Remember that an effective CTA button should be outstanding, use contrasting colors and be visible. Think about what action you are expecting from customers, think about how you can enhance their actions.
Words like: buy, sell, join, try, learn will never be overrated, green and orange color can be most effective, but always remember to adjust the CTA button into your page design.
PRO TIP: Thanks to RocketLink you are able not only to shorten your links, but you can provide CTA widget as well! That way, you can drive traffic to your product page, and boots boost, even more, your conversion! For example, if you are sharing a blog post on a topic related to your products you can add a CTA button and attract customers to view your product page. It's a great idea for shortening the customer journey. An optimized product page can help you close the deal.
If you want to know how to create a compelling CTA, read our guide for beginners!
Build trust
It's all about trust – the majority of social behaviors rely on it. We are more willing to spend our money if we use systems that we know and when we feel safe. That's why you should always pick only trusted payment services (like PayPal), select the best delivery methods; there is no place for shady business online! As netimperative.com research shows, 92% of users said that they would not trust or purchase from a website that uses unfamiliar payment methods.
Choose the best shipping methods, gain additional certification and win customer awards. There are plenty of ways to build your position as a trusted retailer. Remember to inform buyers about such achievements and certificates not only on the main page but also product pages. A great example would be the Trusted Shop mark- a certification which is proving shop reliability to customers: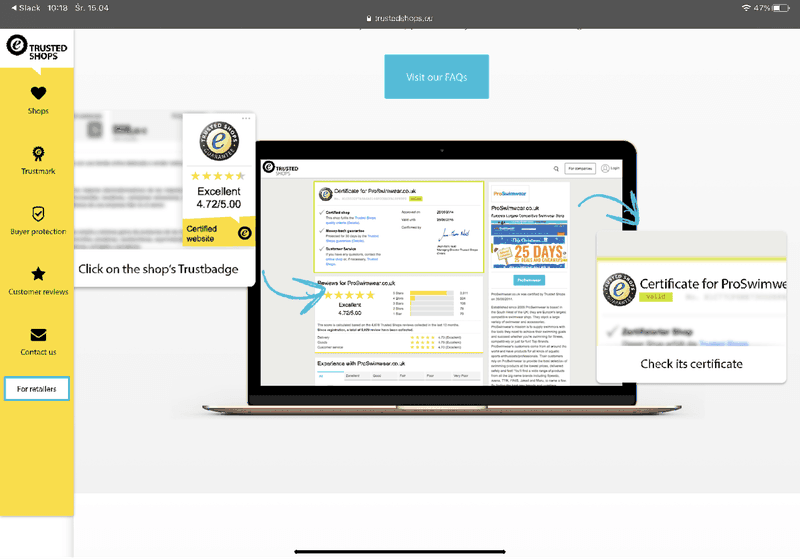 Upselling
Use visitors' attention and direct them into other products related to the one that they are already visiting. Personalize items to the user, gender, age, and interest. Recommend a product that is suiting to the item that the buyer is checking out. Maybe you have a range of products which are compatible with customer's needs? Perhaps a product that they are looking for has additional accessories? Take advantage of upselling!
Use live chat
In the moment of the biggest doubt, be there for your customers. Sometimes they intend to order, but they have some questions, for example, about the delivery time. You can quickly help them with their issues via live chat on your product page. Moreover, you can implement a chatbot to ask repetitive questions faster and accurately.
Automatization can have some drawbacks. Some customers can hesitate while chatting with a bot, or their issues might be too complex. Remember to provide a handover option once a visitor on your website wants to talk to a real agent.
Conclusion:
Building a converting product page can be challenging, but as always, it will lay on how good you know your potential customer. Remember that you should still care about customers' needs and expectations, keeping in mind our clues to skyrocket your conversion rate. When optimizing your page remember to:
create a product description based on values and features
make sure to visualize your products professionally
enhance a sense of urgency
use social proof (reviews and ratings)
a clear call-to-action is a key to sell
gaining trust is a must
recommend suitable products to use upselling
provide helpful customer support.
product page
product photos
social proof
trust