Links are the foundation of the Internet. While promoting business online you're probably sharing a lot of them with your audience. To make the most of your marketing campaigns you need to pay attention to details, such as links. We've prepared a brief comparison of the best URL shorteners that can help you improve your business presence online.
What is a URL shortener?
A URL shorter (also known as a link shortener, link compressor, vanity URL creator, link shrinker) is a tool that enables changing an excessively long and confusing looking URL into a short and memorable link. Short links are more convenient to use and more trustworthy. Moreover, they look professional and deliver insights.
Nowadays, many URL shorteners provide additional features, so that users can, for example, track their link metrics. Some of the tools offer much more. Check out our comparison to find out more!
The best URL shorteners
#1 RocketLink
RocketLink is one of the most powerful link shorteners. It provides options that enable link management, as well as additional marketing tools for increasing conversion. RocketLink's pricing starts at $19 per month and the most advanced Galaxy plan costs $69 per month. You can try out every option for 10 days and ask for a custom plan if you have specific requirements 😉
In RocketLink you can track your clicks overall and specifically, for example:
top countries
top cities
top browsers
top sources
While creating branded links you can customize domain, add UTM tags, and include retargeting pixels to the links you share. Besides Facebook, Twitter, Quora, LinkedIn, AdWords, Pinterest, Google Tag Manager, Google Analytics, you can also include custom pixel script. Thanks to this feature you're able to add less popular scripts or pixels with a specific event name that you would like to use.
Even though there are plenty of URL shorteners with different features available for business owners and marketers, RocketLink combines all of them. Thus, it's the only link shrinker you'll ever need. Vie RocketLink you can add CTAs and embed widgets to any link you share.
In addition, RocketLink offers extremely useful integrations with social media posts schedulers SocialBee and Publer. Therefore, you can make the most of RocketLink's features while creating posts right in your content calendar.
On top of that, the more popular URL shorteners got blacklisted, because they're used by millions of people, including spammers. Make sure to use trusted tools to compress your links in your emails, so that your messages won't end up in the spam folder. RocketLink is one of a few safe solutions.
#2 Rebrandly
Rebrandly is a comprehensive tool when it comes to branded links management. It provides, for example:
fast Redirects
editable destination URLs
custom URL slugs
link search
QR codes
link tags
link expiration
UTM presets
bulk link creation/edit
high volume links
Moreover, Rebrandly offers multiple domain names, link retargeting, mobile deep linking and link analytics. You can build and schedule customized reports to keep track of your performance. This URL shortener is suitable for teams, as you can connect additional users to create and share branded links as a team and use multiple access levels and two-factor authentication.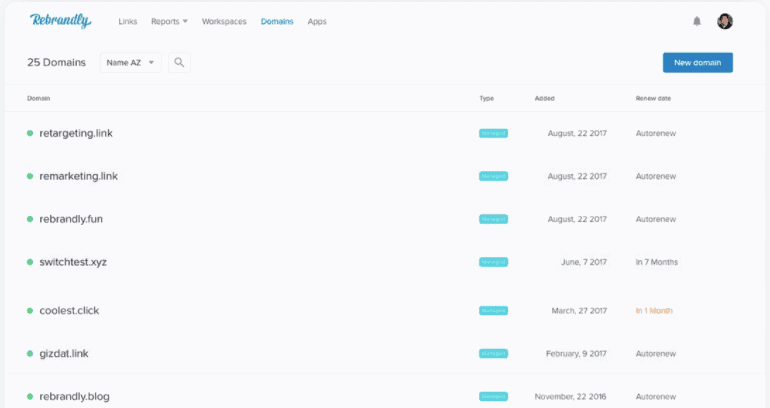 #3 PixelMe
PixelMe offers a free plan with a limit of 5000 tracked clicks. Paid plans start at $24 and the most advanced option costs $332. PixelMe focuses on retargeting. You can reach your visitors from any third-party websites like Amazon, Youtube, Medium or Kickstarter. In the dashboard, you can track every link and measure total and unique clicks every content receives. PixelMe provides Chrome extension. Besides link management and analytics, you can create branded links and personalized 404. Additionally, you're able to set up unlimited accounts and collaborate on your links. Nevertheless, PixelMe doesn't provide adding CTAs, custom embeddable scripts and thumbnail customization.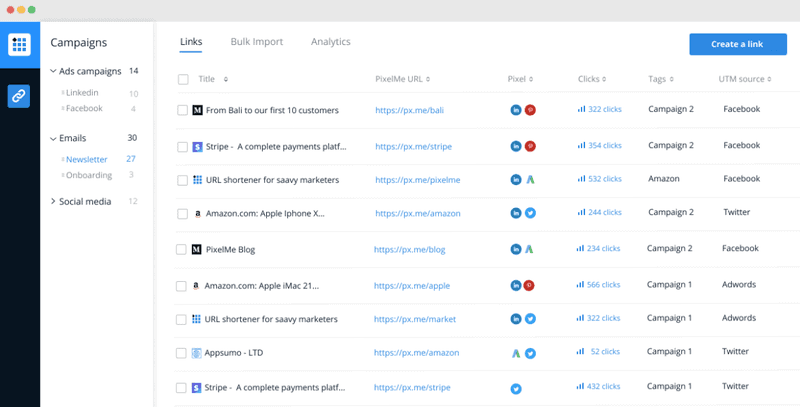 #4 Sniply
Sniply enables adding a call-to-action to every link you share. You can create a custom CTA button and redirect viewers to your website. Among the snip types, you can find: button, form, text and image. Additionally, you can create hidden snip and make the most of other Snilpy's features, like analytics and retargeting pixels. Even though Sniply is effective when it comes to adding CTAs, it doesn't cover QR codes and thumbnail customization. The pricing starts with $29, yet Sniply's most popular PRO plan costs $79. You can try every plan for 14 days and find out if it's suitable for you.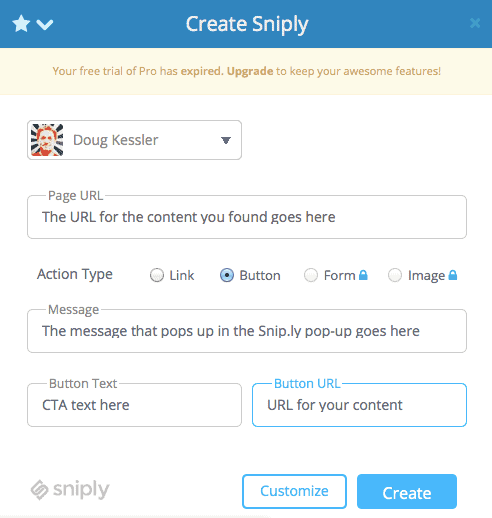 #5 Bitly
Bitly is one of the most popular URL shorteners, as it provides a free version. Nevertheless, for marketers, such a basic plan can be insufficient. More advanced plans cover links' customization, domain 404 error fixer, link creation, tags, filtering, QR codes, and mobile deep links. In Bitly, you can also build UTM tags, group and manage links, and analyze links' performance. Bitly provides a mobile app that can come in handy, as well as Chrome and Firefox extensions. Unfortunately, Bitly doesn't offer embedding widgets, adding CTAs and retargeting pixels to your links.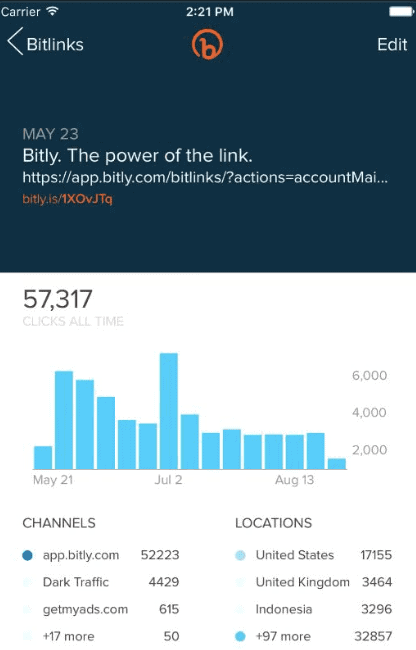 Wrap-up
The market offers a wide range of tools for shortening links. You can test a few solutions to find out which one fits your business needs. Don't limit yourself with a tool that only shortens URLs – add more powers to your links and boost your performance online. While looking for the best URL shortener, focus on the main features:
Link shortening
URL branding
Including retargeting pixels
Link tracking
Click analytics
Adding CTAs
At RocketLink we're striving to improve our solution constantly and we're happy to show you how RocketLink can change your marketing world! Contact us and request a demo 😉