The E-commerce industry is rapidly growing to keep up with the changing preferences of the user. Whether you sell electronics, apparel, food products, handmade products, or just anything, content marketing is the most effective method to lead sales. E-commerce companies use content marketing to increase brand awareness and impact their overall presence on the web.
Content Marketing helps online businesses to connect efficiently with the customers. So how can an E-commerce development company utilize the power of content marketing to accelerate traffic and increase revenue?
Content marketing: nuts and bolts
Content marketing emphasizes creating high-quality original content that engages and attracts your potential customers. Instead of just launching products or services, content marketing provides information that entertains and provides an idea to the audience.
Content Marketing is being used by everyone from small businesses to big companies and it actually works. In the era of spam emails and disturbing ads, content marketing provides valuable content to the users that make them stop, think, and take action.
E-commerce & content: perfect duo?
Regardless of whatever product you are selling, content marketing is an important factor for your marketing strategy. Creating superior quality content helps to reach the audience and builds trust. It will keep the customers engaged. Content Marketing helps to convert and attract customers and turn them into loyal customers.
Targeted content will build a strong relationship with the buyer personas of your E-commerce business. With content marketing, you can increase traffic, generate leads, and increase the revenue of your business – no matter if you sell engagement rings or mobile phones.
What to expect in 2021
Content Marketing keeps on changing. It is not a type of thing that you set and don't look at it at all. Due to its effectiveness, it has become the core part of brand recognition, lead generation, and sales enhancement. In order to better understand the preferences of your buyer persona, you must tune up your content marketing approach from time to time.
Videos and live streaming take a central place
Video Content has been a lifesaver for marketers over the past couple of years. Videos deliver more appealing content compared to other types of content marketing strategy. The modern group of customers expects videos from their trusted brands and it keeps the audience engaged.
Look at the video marketing survey for the last 6 years.
As stated by 99firms, 80% of people would prefer to watch a live video rather than reading a blog post. Hence, the live stream audience is also growing as well.
Create videos that are fun-loving and liked by your audience. You can post and submit videos to Youtube, Facebook, Instagram, LinkedIn, Snapchat, and your own website. You have various options for the structure of the video like behind-the-scenes, webinars, expert talks, Q&A sessions.
Podcasts are mandatory
Podcasts have been the most captivating method of content marketing and the popularity of it is rising every year. Podcasts are informative, entertaining, and can be heard anytime on the move. People can listen to podcasts while at the home, on the way, or at the gym.
For E-commerce companies, podcasts are very effective to build a new set of audience and spread the business niche. According to Oberlo, 54% of consumers are more likely to make a purchase from a brand after listening about it on a podcast.
Content gets adapted to voice search
Voice search is booming. As mentioned by backlinko, 40% of adults use voice search on a daily basis. Thus, voice search is another key feature that is going to strive for content marketing in 2021.
Brands are still improving their content for voice search. To stand before your competitors you need to recognize the way your audience searches for queries. Understand how the user searches for queries, the text search may be "Content Marketing Trends in 2021" but the voice search can be "Content Marketing Trend for E-commerce in 2021". Determine what your audience search for and tailor your content accordingly.
Personalized content will be in fashion
Personalization has been observed as a content marketing trend because of its productiveness. As reported by Forbes, there is a quiet possibility for 80% of customers to buy from a brand that provides a personalized experience.
Personalization involves data. To create personalized content for your customers, you must have their data, what are their interests, and what do they frequently look for. The ultimate goal of personalized content is not only to provide the information the user is interested in but to make the user take further steps to their buyer's journey.

Gaurav Jain is a Co-Founder of MageComp and computer engineer and a speaker at Meet Magento India
User-generated content continues to rule
UGC has become the backbone of content marketing. So it is going to rock even in 2021. Customers have more trust in the content shared by other customers rather than the brand's content. Content created by users holds many advantages. The brands not only get relaxed from creating their content but also get more relevant content from different customers and the brands can reward their customers for tagging the channels.
Take a peek at Starbucks' UGC campaign for the Red Cup Contest based on a theme for their beverages. Users have to share their red cup shots and the winner will be awarded. And the customers really share the posts with #RedCupContest.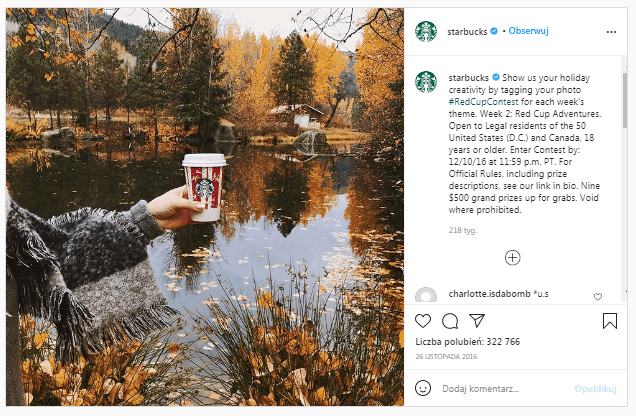 Varied content will be loved by users
Users get bored with one type of content from a brand and eventually they lose interest in your brand. Make use of different forms of content like videos, infographics, podcasts, and a lot more.
Diversifying your content will keep the user engaged and build eagerness for what will be next from your brand. This indicates that you have to broaden your skill set. But it doesn't mean you have to create new content or branding style all the time. The content which has been liked before can be put into a new form, updated, and delivered. Most users have a different way to consume media so this will work well.
Conversational marketing continue to grow
Conversational marketing offers a more realistic way to be attached to your customers. By engaging with your customers allows knowing more about their preferences, their needs, and their interests. Conversational marketing helps in minimizing the time needed to know about the customer, the customers receive the information in no time and it removes the gap between the customer and the brand.
To practice conversational marketing, you can invest in tools that offer conversation via chatbot or human-to-human. Chatbots have a content library, data, and information to assume while conversing with the customers.
Get ready to harness the power of content to improve the user experience of your E-commerce business and build a strong relationship with your customers in the coming year.