Nowadays, we cannot do without many applications that make life easier. Some people cannot imagine their day without a phone with an alarm clock, flashlight, Messenger, and a notebook. The same applies to marketing. Marketing tools make your work so much easier that no one even tries to do without them.
We can find some interesting and highly useful tools for virtually every field of digital marketing. Today we show you a dozen or so tools, including best webinar software, that will help you in your daily work!
#1 LiveWebinar
What is LiveWebinar?
LiveWebinar is a virtual event & webinar platform.
How does it help marketers?
It definitely stands out from the competition with the multitude of functions it offers. In addition to the standard options, such as the ability to show slides, chat window, the ability to enable discussion or creating registration forms, it has, for example, a dialog that allows you to draw freehand graphics in real time. It also has the ability to record the entire webinar that you can download and use in the future.
Interestingly, LiveWebinar also allows you to create your own training platforms, as well as integrate with marketing automation systems, e.g. HubSpot, MailChimp, ActiveCampaign, SalesManago and many other tools. In addition, you can easily integrate with your Slack or Moodle platform.
You can get all of these benefits with one of three plans: Free, Pro and Enterprise. When using the free plan, you can organize webinars for up to 5 participants, record up to 2 hours of training, share the screen, create surveys, and conduct marketing automation. The number of available functions increases with the purchase of higher and higher packages, and for the most demanding users LiveWebinar allows you to adjust the plan to the reported needs.
#2 Mediatoolkit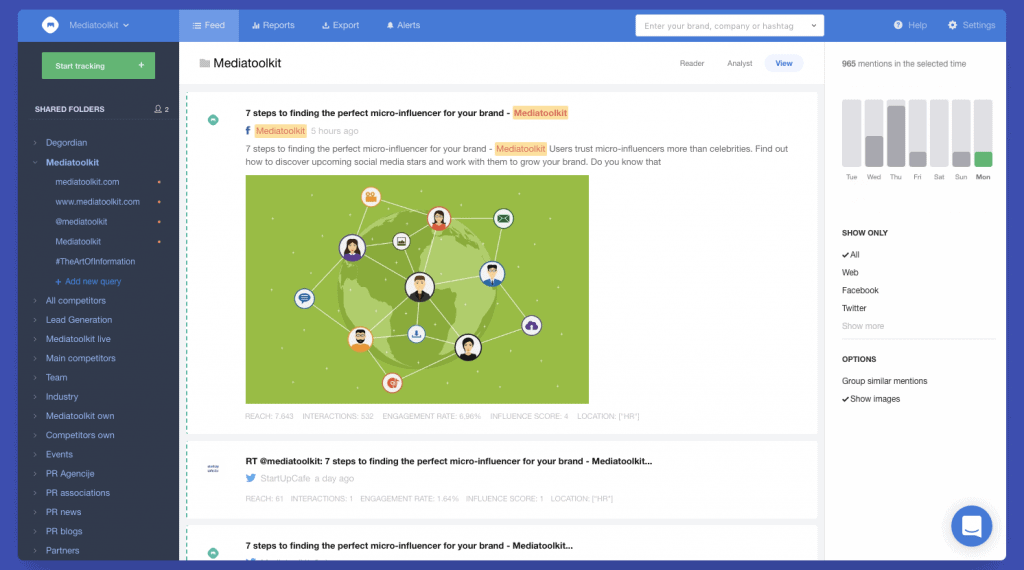 What is Mediatoolkit?
Mediatoolkit allows you to monitor the content on the Internet for mentions of your company, your brand, your competitors, and any other topic that interests you.
How does it help marketers?
The results are delivered immediately, so you never miss out on important information again. You also get a better picture of what is going on in your industry when you have all your mentions gathered together in one place. There are tools that help you analyze mentions but also help you decide how to proceed based on the results you get. All of your mentions are accessible through a web browser and your mobile phone, and you can get email notifications directly in your inbox.
#3 Aritic PinPoint
What is Aritic Pinpoint?
Aritic PinPoint is a full-stack marketing automation platform for growing business having landing pages, lead scoring & tracking features with CRM & Social integration.
How does it help marketers?
PinPoint is perfect for a marketer to get going from Day one. It is user friendly and is easy to understand in seconds.
Aritic Pinpoint helps you to build relationships with leads, automate marketing campaigns and convert leads to paying customers easily.
With PinPoint, you can build customized landing pages using the landing page builder feature. Other features like lead scoring, lead tracking, lead nurturing,gives a better insight into user behaviour and actions. Features like email campaign management, email campaign automation, marketing campaign builder, a/b testing, website tracking features with marketing file and library management lets you push your users to the end of the marketing funnel: Sales.
This automation tool is surely going to be perfect for your business. Try this simple yet powerful tool for all your marketing needs.
#4 Design Wizard
What is Design Wizard?
Create impressive videos and image designs in minutes with Design Wizard!
How does it help marketers?
Design just got easy! The free features allow you to resize your designs, upload your fonts, photos, logos and create custom color palettes. Design Wizard's library holds over 1 million premium images, thousands of high quality videos, illustrations and graphics. Every video and image has also been licensed for commercial use!
The Pro plan, starting at $9.99 per month, gives you 60 image design downloads, image uploads, font uploads, free previews + 1GB storage. The Business plan, which you can purchase from $49.99 a month, gives you unlimited standard video downloads, 1 premium video per month, unlimited image design downloads, video uploads, add text and images to video and 10GB storage.
#5 NetHunt
What is NetHunt?
NetHunt is a tool that helps to automate marketing and sales processes inside Gmail.
How does it help marketers?
It automates the customer journey from lead capturing via the webforms to lead nurturing with drip campaigns. Engagement flows and triggers help move leads through the funnel.
Extended email functionality allows sending bulk and personalized email campaigns, having all the campaign performance on the fingertips: click and open rates, bounces and unsubscribes. Segmenting audience, saving personal and shared email templates, sending test emails, adding unsubscribe feature – everything and more is possible with NetHunt.
NetHunt got everything you need for fully automated LinkedIn lead generation. Integration with LinkedIn shows which LinkedIn profiles and companies are already in your CRM and which ones are new. It lets you focus on new opportunities. With NetHunt, you can add new leads from LinkedIn to NetHunt CRM in just one click and automatically enrich leads' profiles with available data.
#6 Postaga
What is Postaga?
Postaga is an all-in-one email outreach tool for link building, digital PR, and sales outreach.
How does it help marketers?
Postaga helps marketers by streamlining the tedious processes involved with finding relevant link building and digital PR opportunities, finding the right contact people, getting valid email addresses, and sending personalized outreach emails. In just a few minutes, Postaga helps marketers: 1) find relevant websites, bloggers, podcasters, and businesses; 2) connect with the right contacts; and 3) build and send personalized outreach email sequences to the contacts. Postaga is useful for: digital marketers looking to more quickly and easily build links to improve their search rankings; businesses and PR companies looking to get write-ups in blogs and podcast guest spots; and business development roles looking for new sales and partnership opportunities.
#7 TimeCamp
What is TimeCamp?
TimeCamp is an automatic time tracking tool
How does it help marketers?
TimeCamp helps marketers track their time and productivity, and bill clients hourly-based. With TimeCamp you can track how much time you spend on every project and on non-billable activities. You can integrate this time tracker with your favorite task management tool, create time entries based on keywords or do it manually – it's your call. You can also manage attendance in your company and export time reports for clients. TimeCamp offers a great Freemium Plan for unlimited users, so agencies can use its basic features totally free of charge. With TimeCamp, you can stop wondering how much time you've spent on a project and start billing your clients for time actually worked.
#8 Biteable
What is Biteable?
Biteable is a super easy to use video creation platform that has ready-made templates to build on.
How does it help marketers?
Videos have proven to influence buying decisions and help pages rank higher in search. Biteable allows you to easily create videos for marketing and collaboration. When preparing a movie, we can use the 5 main movie templates, or create our own template by selecting any scenes from a very large library. Each of the templates has adjusted music, but we can change it to a different one by choosing from the library of songs that are proposed in the program. The templates available in Biteable allow you to create a movie not only from photos, but also in an animated form.
#9 User.com
What is User.com?
User.com is a marketing automation platform designed for SaaS, E-commerce and Digital Businesses.
How does it help marketers?
User.com is a single platform providing its clients with intuitive tools for automation of marketing, sales and customer support activities. It integrates all communication channels, landing page builder, forms, CRM, knowledge base as well as user-friendly analytics & reporting tools in one place. The heart of User.com is its automation module with intuitive drag & drop automation builder and a library of ready-to-use automation templates.
#10 Poptin
What is Poptin?
Poptin is the CRO tool that enables marketers to quickly and easily capture leads on their websites through pop-ups and forms.
How does it help marketers?
Poptin stands out from other similar tools with its great triggering and customization capabilities. It allows you to create beautiful pop-ups that catch attention, and trigger them by various options (exit-intent, scroll-based, after-time, etc.). On the other hand, Poptin is also integrated with many major CMS platforms, such as WordPress, Shopify, BigCommerce, Wix, and others – making it easy to implement. Poptin has a free plan that supports up to 1000 visitors/mo. After that it starts at $19/mo.
#11 HeySpace
What is HeySpace?
HeySpace is an easy-to-use collaboration & task management software
How does it help marketers?
HeySpace is a tool that might help to make your work much easier! First of all, you can manage all of your projects, and it doesn't matter if you are working alone or with a team. Scheduling tasks, group chats and project implementation plans are cost and time efficient and the most important you can have them in one place. The second great thing is that you can always integrate HeySpace with your mail or calendar and attach documents like presentations, contracts or excel sheets. Last but not least, if you're working with clients you can always invite them to HeySpace and have a chat or video call with them! HeySpace is a fusion of all needed implements!
#12 ContentStudio
What is ContentStudio?
ContentStudio is a content Marketing and Social media management tool
How does it help marketers?
ContentStudio allows you to easily build and share content that attracts and retains an audience. With ContentStudio you can automate your social media strategy bringing in more engagement to your social channels. Some of the prominent features of this tool are:
Content automation
Content Discovery
Content Curation
Social media scheduling
Bulk posting and automation
Content Calendar
Social media Analytics
#13 Bluestone PIM
What is Bluestone PIM?
Bluestone PIM is a Product Information Management platform
How does it help marketers?
Bluestone PIM helps B2B and B2C marketers keep an eye on product information quality, create spot-on, immersive product experiences, and collaborate efficiently with teams, suppliers, and agencies.
#14 GetResponse
What is GetResponse?
GetResponse is an all-in-one online marketing software to grow your business.
How does it help marketers?
GetResponse is often considered to have the most 'bang for your buck' of all the marketing automation systems. It's $15 per month at the base level but this gets you many elements. Setting up lead magnet pages is one aspect, but then there are the AUTOMATIONS.
This area means you can set up a funnel in about 90 minutes. First, you set up your branded email template and a lead offer. In automations, you'll easily create a workflow: an email that gives a freebie. Then write an email to welcome them, on your new template.
You can assign these new leads a tag, for better targeting later on when you want to do more email marketing.
The visual dashboard is extremely helpful. GR even have a huge 'marketing tips' area if you want to learn about email marketing benchmarks and landing pages.
Get a $30 credit with this link: http://gr8.com//pr/eMQML/d
#15 Exceed.ai
What is Exceed.ai?
Exceed.ai is a Conversational Marketing Tool.
How does it help marketers?
AI to automatically ensure all your marketing leads are followed-up, qualified, and nurtured and book sales-ready meetings.
#16 Survey Anyplace
What is Survey Anyplace?
The Survey Anyplace software is often used as a lead generation tool.
How does it help marketers?
Including a quiz or assessment in your landing page is a great way to boost qualified lead generation. Spark your website visitors' attention by making them curious. Show you care about what they think. A quiz or an assessment can do just that, and in the meantime, you've proven your expertise in the field, giving them feedback after they finished the survey or assessment.
You can give valuable feedback guiding the visitor to the right product for him/her. Especially useful in an eCommerce setting.
Also handy: you can collect information that you can use for subsequent targeting.
With surveys, you can generate qualified leads, ready to convert!
#17 ReferralCandy
What is ReferralCandy?
ReferralCandy is the one solution to cover your referral marketing needs.
How does it help marketers?
It allows you to customise rewards for referring customers and referred friends. You can choose from store discounts, cash payouts and custom rewards. ReferralCandy works with every eCommerce store, through app integrations or email connect. It runs by itself, automating your referral marketing efforts, getting you a lot of sales for virtually no labour.
Another great tool you can try to ensure your site's content is original is using a plagiarism checker. A plagiarism checker can quickly scan your content and make sure that all of your content is original and it can locate copied content easily.