While promoting your business, products, and services you need to pay attention to creating a coherent image of your brand that can help you increase brand recognition. In fact, consistent brand presentation across all platforms increases revenue by up to 23%. Brand identity includes visible elements, such as logo, color palette, shapes, typography but also other non-visual aspects. In the following article, we'll present a few ways that might be useful for developing brand identity. Read more!
Tone of voice
In the multichannel marketing and customer support era, brand identity is crucial. Besides the visual aspects of communication with clients and prospects, you need to pay extra attention to the language you're using and tone of voice. Your brand book should cover graphic designs but also language instructions. The tone of voice can help you interact with your audience effectively. It should also be aligned with your brand's mission and vision. Adjust your brand's voice to your target group. Think about who are your potential and existing customers and how to communicate with them in the best way. Differentiate tone depending on the situation.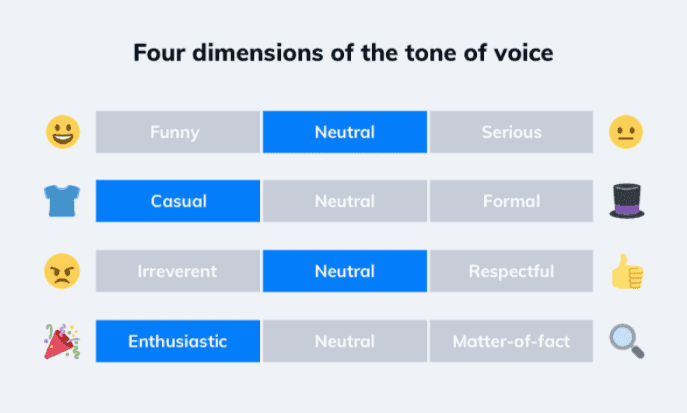 The brand's voice should be consistent across all touchpoints. Take it into consideration while writing content for your website, as well as mailing, social media posts, all kinds of ads, live chat, etc.
Brand identity is also crucial for interacting with customers directly. While training your customer support team make sure that your team knows how to talk to customers using the right tone of voice. Especially if you use distance learning and online course software (LMS) to train your staff, you can quiz if they have got it all nailed down and even give (automated) certificates. Besides the conversation scripts, you can also hand out the lists of recommended or restricted words to your customer-facing team.
Chatbot's personality
If you plan to implement a chatbot in a live chat on your website or in Facebook Messenger, you should definitely include a tone of voice so that your bot can be as friendly and helpful as your team. A great idea is to bring your bots to life with a personality and increase customer experience. Conversational marketing can be effective because it's engaging and interesting. Chatbot's personality can add even more value to channels such as live chat and Facebook Messenger. Give your chatbot a name and write down a few of its traits. For example, Mr. Bot can be helpful, easy-going, and funny. He'll start a conversation with a warm welcome, using emojis and a question (depending on the goal of a conversation).
Pay attention to user experience and adjust chatbot's personality and tone of voice to your audience. Take a minute to think from your customers' perspective – with whom and how they would like to interact. Create an intuitive and understandable scenario of conversation and always enable handing over the discussion to one of your agents. That way, you'll avoid customers' frustration.
Branded links
While sharing any links on social media, not only shorten your links but also customize them. Social media users can be more willing to click the links if they seem trustworthy. Shortened and customized links simply look better in the posts and can suggest the subject of the content.
Instead of using random links, you can generate short and aesthetic URLs that include your custom domain, for example, your.brand/content-title
To create branded links use RocketLink, as it enables not only to customize your URLs but also to add retargeting pixels to these links and embed widgets such as CTAs, videos, chatboxes, pop-ups and more!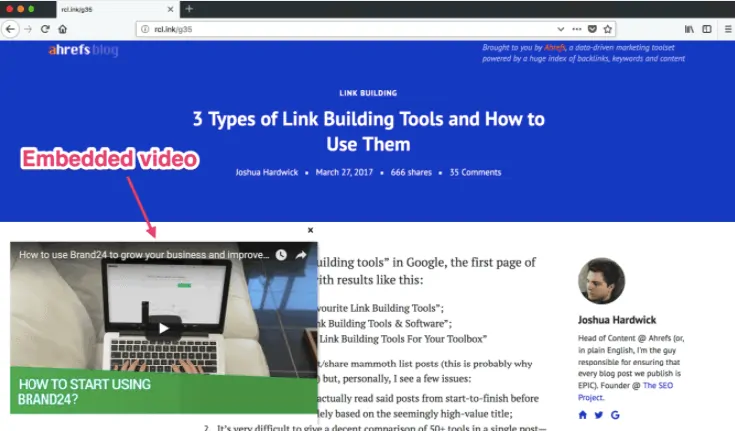 Customized thumbnails
On social media, links can also appear as thumbnails. A picture and text should be consistent with the content and clearly indicated what to expect from the content. When it comes to blog posts, sometimes covers don't fit the social media image sizes and can be displayed unfavorably. The same can happen with the text. Headlines aren't always a perfect match for social media platforms. Via RocketLink you can customize thumbnails so that your links appear with suitable image and text. Depending on your branding, you can use your logo in the thumbnails to build brand recognition. Once you customize your domain via URL shortener, it will appear in the thumbnail as well.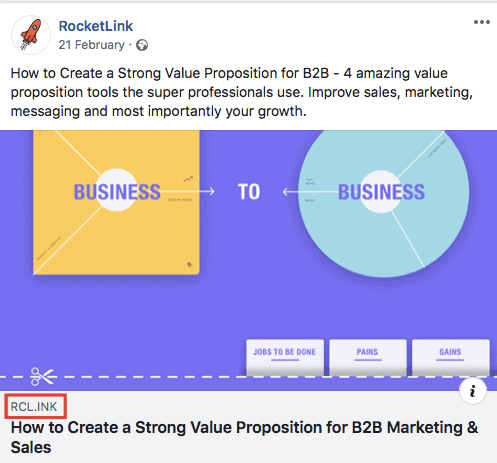 Customized images
As mentioned above, visuals also play a huge role in building brand identity. Nevertheless, bearing includes logo design, typography, color palette, website design, and every image you're using in your marketing performance. It helps in increasing a brand's recognition when companies use aligned graphic designs. Sometimes you might use pictures to illustrate your ideas, and that's perfectly OK, but a great idea is to improve images with filters that fit your color palette. You can also add a bar at the bottom of an image and use your typography to write an appealing title or call-to-action.
You can find free stock photos for example on these platforms:
Find your own style and express your brand identity in every element of your communication.
Wrap-up
To run resultful marketing campaigns you need to pay attention to every detail. While it seems easy to craft marketing messages, in fact, every word matters, so you should focus on the right language and tone of voice. Customized thumbnails, images, and links can also improve your brands' recognition and help you create a consistent image. Don't hesitate to try out the practices of the biggest brands. As a small business, you can improve brand identity even with a few simple actions. If you struggle, you may want to use some help of IT services. Good luck!