There are plenty of ways of promoting a brand and products. Business owners and marketers around the world are choosing Google Ads to run campaigns and boost sales. Conducting an effective campaign is not only about crafting the right copy, but also using the knowledge about target groups to master ad targeting and use the right keywords. We're happy to explain Google Ads for you and reveal a great option that RocketLink creates for marketers!
What are Google Ads?
Google Ads (formerly Google AdWords and Google AdWords Express) is an online advertising solution used by companies to promote their products and services on Google, YouTube, and other websites. Google Ads allows advertisers to choose specific advertising goals, such as driving phone calls or page visits. In a Google Ads account, advertisers can adjust their budget and targeting, and start and stop ads at any time.
The cost of using Google Ads depends on your budget settings. Google Ads can operate successfully on almost any budget. You pay only when a user interacts with your ad, such as clicks to visit a website or call your business. There is no minimum spend or contract duration requirement in Google Ads – you can stop showing your ads at any time.
Google Ads in search results
Below, you can see an image that illustrates how ads are displayed in the Google search results. Ads (1) appear along the edge of the page. Google matches ads to a person's search based on how closely the search matches your keywords and campaign settings.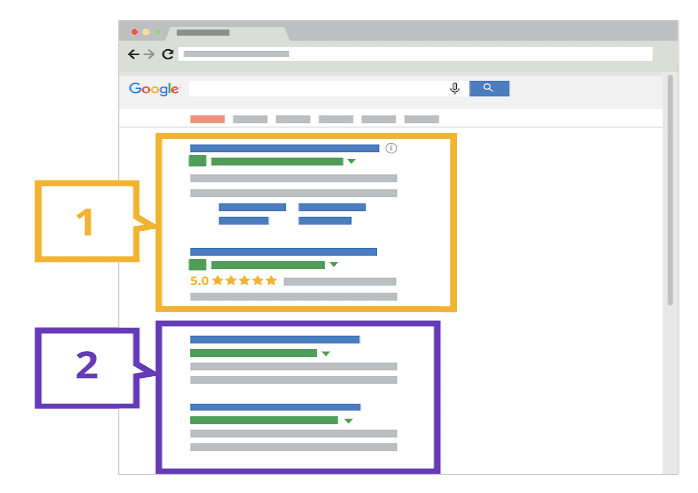 Google Ads shows your ads when people search the internet for products and services that you offer. By using intelligent technology, Google Ads helps you reach potential customers when they are ready to take action.
You start by choosing a goal, such as getting more visitors to your site or increasing the number of phone calls to your business.
Then you select the geographic area where you want your ad to appear. This can be the immediate vicinity of your business or a larger area, such as a city, province or the whole country.
Finally, you create your ad and set a monthly budget limit.
Once your ad is approved, it will show whenever a user in your targeted area searches for a product or service that you offer. You pay only when a user interacts with your ad, such as clicks on it or calls your business.
If you'd like to promote your products directly, instead of boosting your website's traffic, you can run product listing ads. Sell your products to the most valuable customers, that is, to those who are looking for what you have on offer, online, or in a traditional store. You'll only pay when the customer clicks on your ad to go to your website or view your store's local offerings.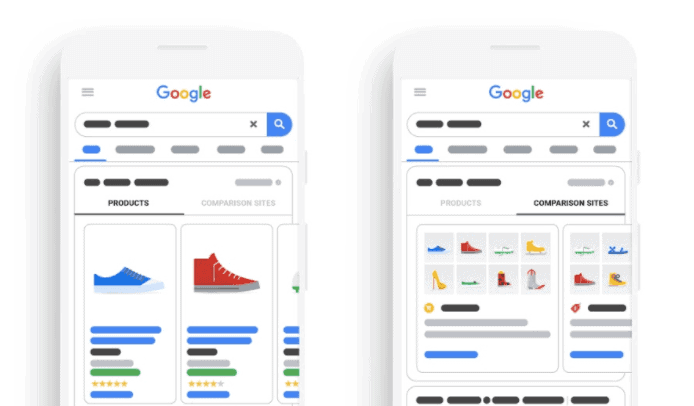 Google Display Network
The Google Display Network is designed to help advertisers find the right audience. Its targeting options allow you to strategically reach potential customers in the right place and time.

An ad in search results reaches people who are already searching for specific products or services, but Google Display Network allows you to grab customers' attention earlier in the purchasing process. You can reach customers with your ads before they search for the products or services you offer, which can be critical to your overall advertising strategy. You can also remind users of what has previously interested them, such as with remarketing ads shown to people who have visited your website or app in the past.
How to boost Google Ads with RocketLink?
Thanks to RocketLink you can retarget your ads even more precisely! While shortening your URLs you can add retargeting pixels to them, and therefore, track the clicks. Share your links via social media and your newsletter campaigns, and retarget your Google Ads to the people who have already clicked your links. Therefore, you can reach a precise audience and improve Google Ads performance. Make sure that your ads are relevant to the content you've shared before. That way, your potential customers will see ads that are suitable for them.
Moreover, RocketLink enables adding UTM parameters and widgets to your URLs. In practice, that means that you can track your links in Google Analytics, as well as add CTAs, pop-ups, chat boxes, etc. Your visitors will see the embedded widgets once they click a link. The amazing thing is that you can use any link, not only ones that link to the domain you own. That way, you can use an excellent piece of content from another website and get back your traffic.
We hope that now you'll know how to run effective Google Ads. Contact us for more details about RocketLink 😉